Growing up, our family had a set of World Book encyclopedias with red pebble textured covers, published in the fifties.
I loved to look through them. Most of all, I loved the supplements to the encyclopedias. There were several, and the ones I remember the most were one about the weather and one called, The Changing Earth. It was a history of the evolution of the planet.
The part of the book I loved the most was, not surprisingly, about the dinosaurs. The parts about the dinosaurs I loved the most were the illustrations. The images were of the murals created for the Chicago Field Museum by Charles R. Knight.
I am one of many artists who were enthralled by these images. Here is maybe the best:
Regardless of genre, that is simply a great painting. The hazy atmosphere made the sense of place palpable.
I first encountered it like this:

Our World Book was printed in black and white. Somehow, not being in color made it feel more real to me – the sense of space was more pronounced in the badly reproduced gray tones. I believed in this world. As a kid, I thought this was a photograph.
Hey, I was a little kid. Although, even after I knew better, I still harbored the suspicion that maybe, just maybe, this was a photograph.
The Knight paintings were one of many sources that triggered my fascination with dinosaurs. Here on Christmas morning, at almost four years old, I got my first plastic – as they are referred to on the box – Prehistoric Monsters.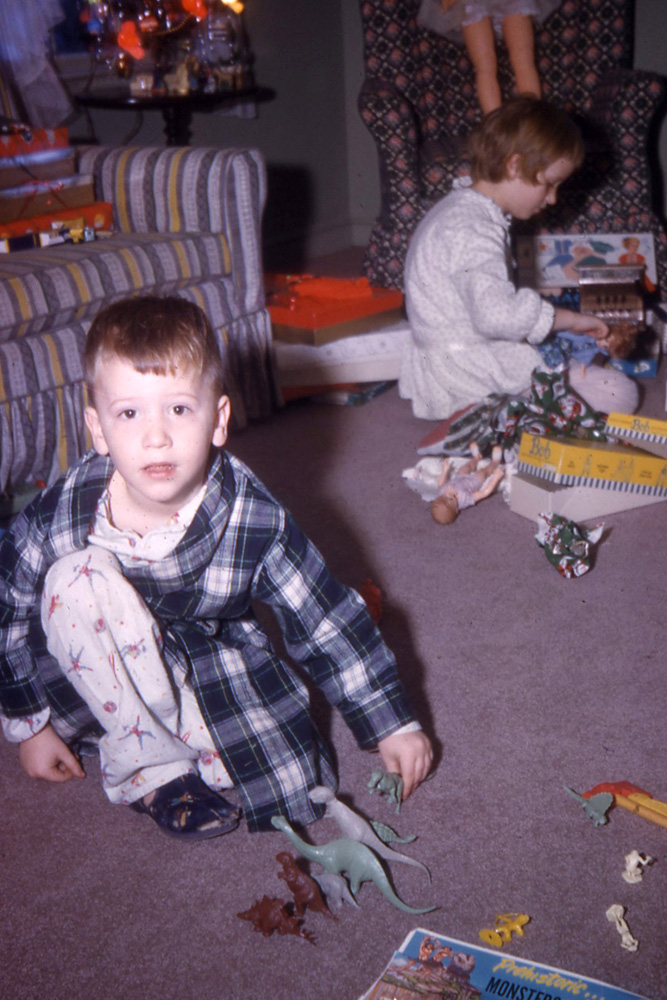 (Check it out – one of my sisters has gotten a Bob doll. And, see those legs on the chair? That was a frighteningly HUGE doll that became known in the family as, Big Baby)
Where are those toys today? Why, in my studio:
There was good eatin' on those guys:
So, besides playing with my toys, how else could I live in the world of dinosaurs? By drawing them, of course. And the Knight paintings were my reference.
I began to get a monthly subscription of materials from National Geographic, which contained nice reproductions of the Knight murals – in color!
Here is Knight's Dimetrodon:

And mine:
The National Geographic booklet that came with the subscription had glossy stickers of the Knight paintings that you wet and placed in spaces interspersed throughout the pages of text. In the back were blank pages to be used for writing our, "nature notes", and I did my drawings on these.
Plesiosaurus:

Pleseusaurus  Plesiosaurus: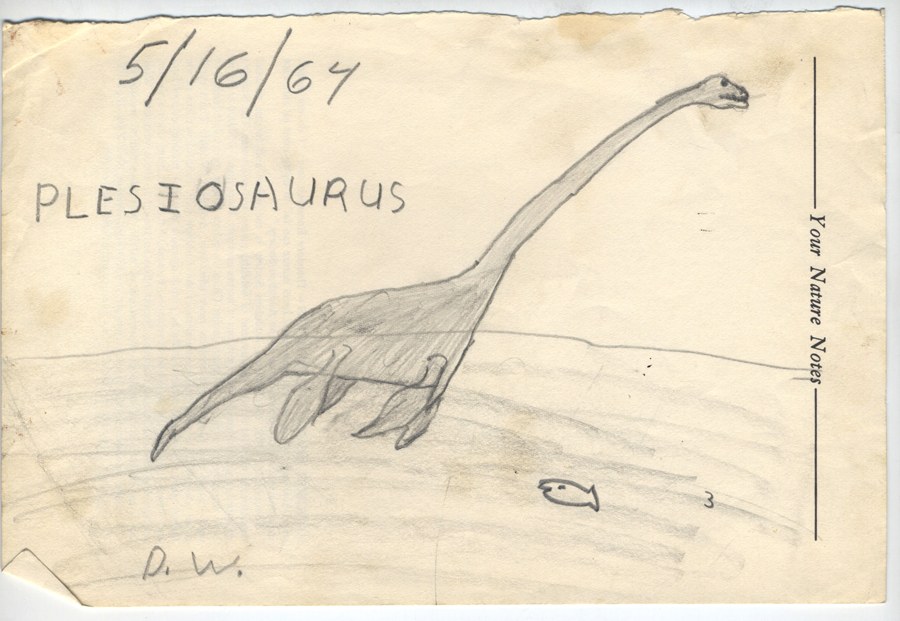 Pteranodon:
Pteranodon: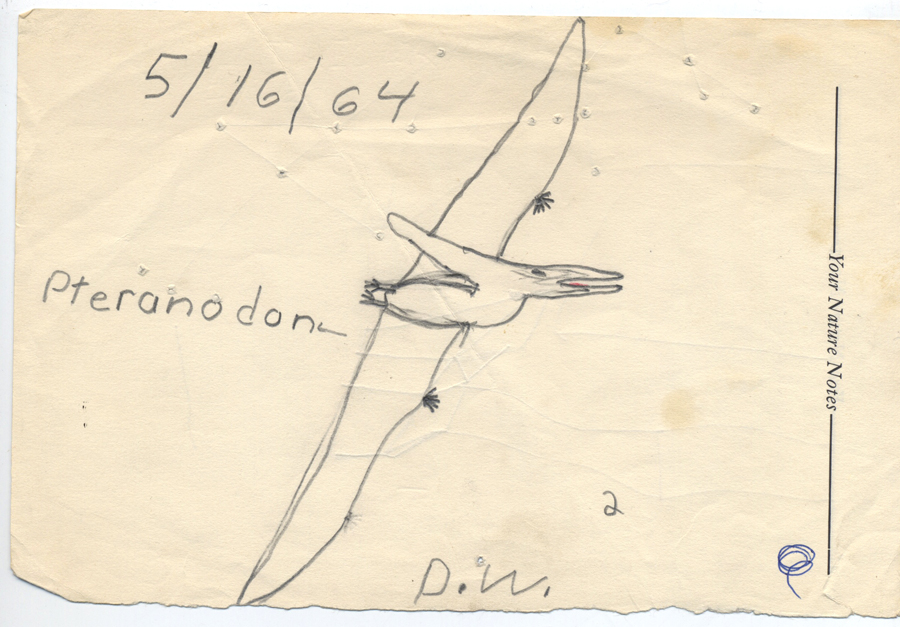 Saber-tooth Tiger:
Saber-tooth Tiger: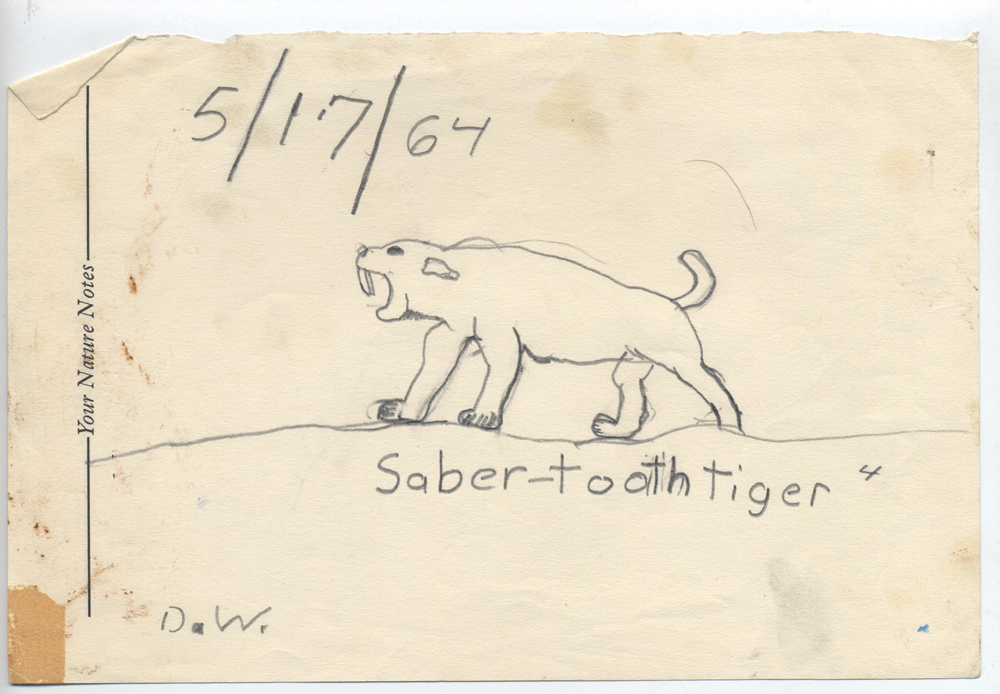 In 1964 I was apparently not ready to tackle Knight's whole picture. But, a year later, I was: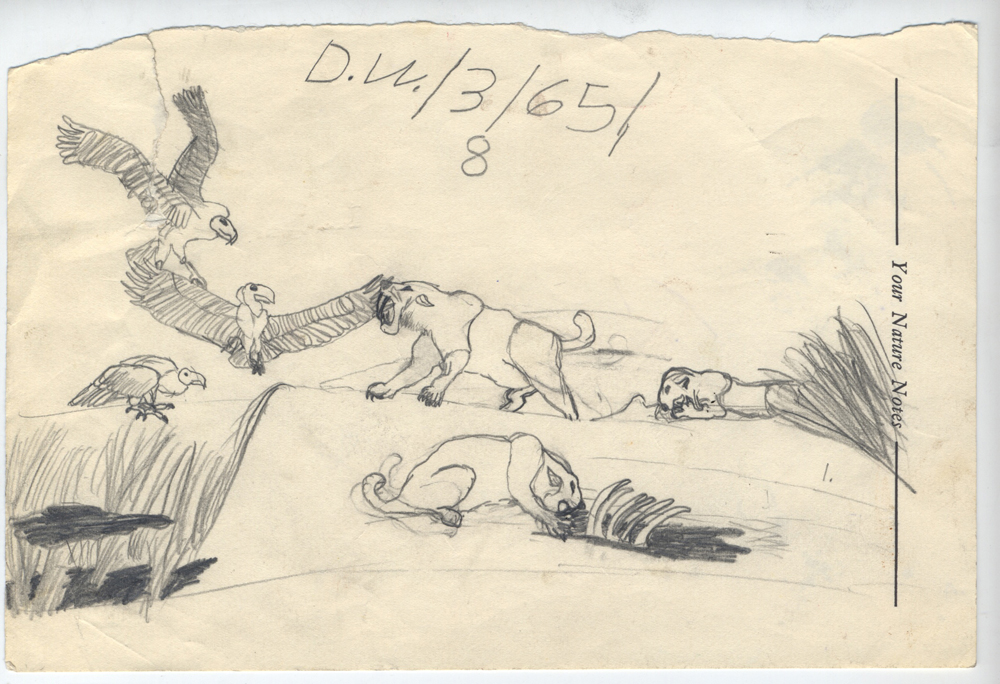 Stegosaurus, too: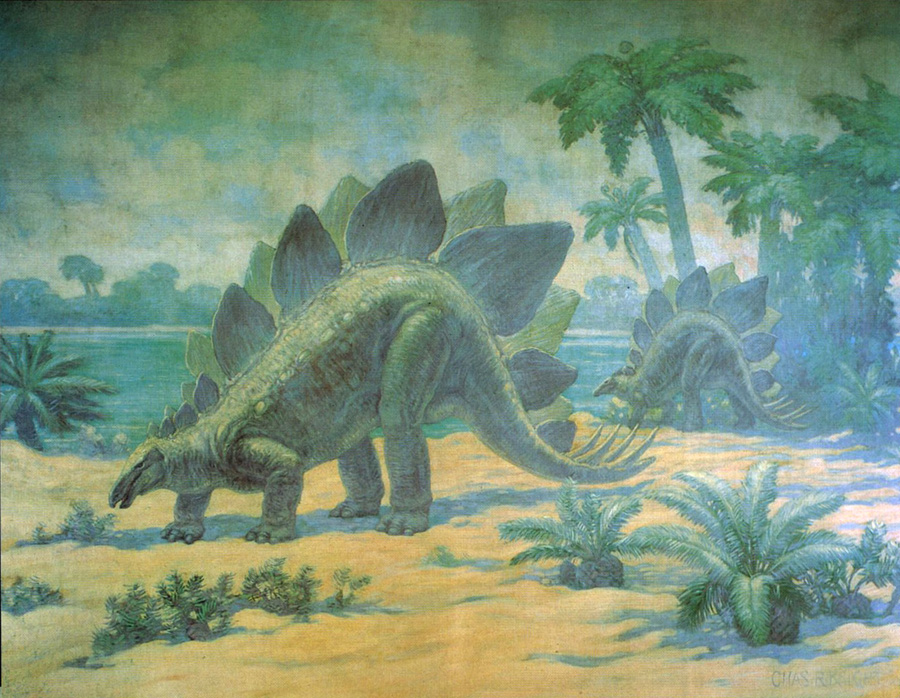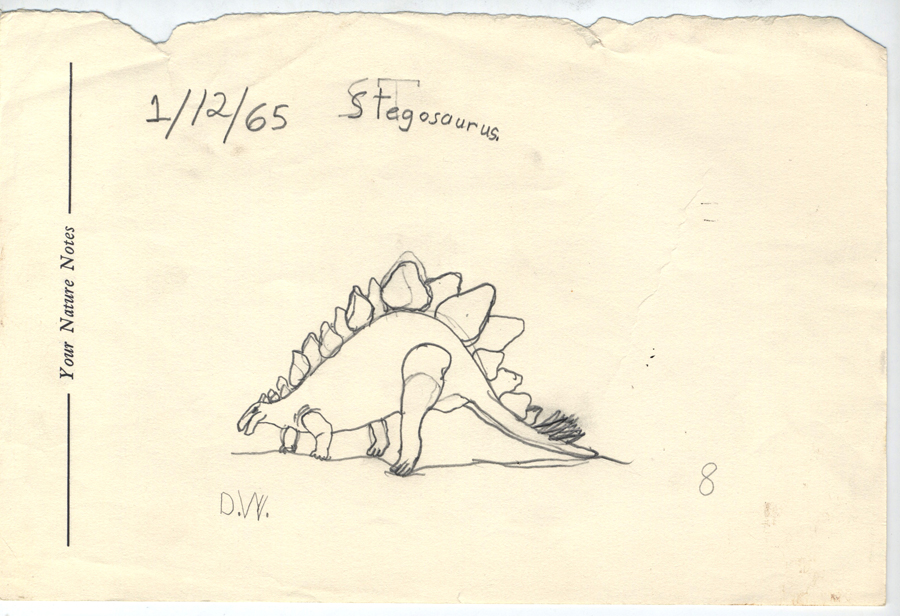 Sadly, there's no date on this, but I'm clearly older now: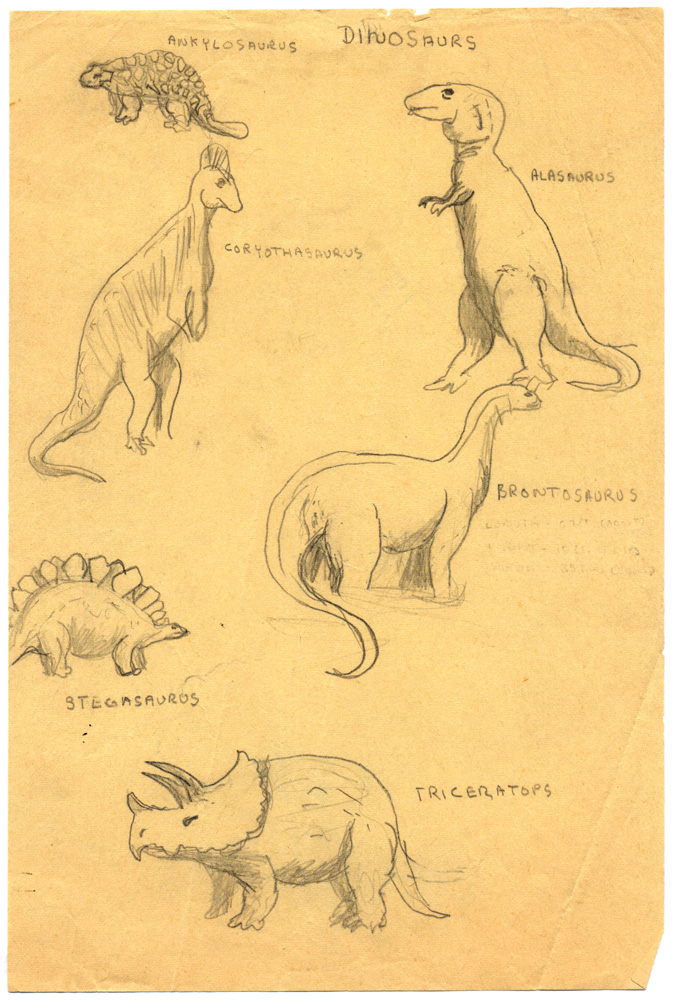 Somewhere along the way the obvious fact that an actual person – Charles Knight – painted these pictures hit me at a very deep level. No, these images weren't photos, but they had an incredibly powerful reality to them.
A person drew them.
I loved to draw.
Could I …? Someday?
The idea that I could somehow create pictures like that flickered at the edges of my mind. I couldn't articulate that idea yet, but the seed of it began to take root.
And that might have been the end of this post if not for an encounter back in the mid-nineties. While I was over at Ted and Betsy Lewin's house, looking at the wealth of art hanging on their walls, my eye caught a familiar signature:

I turned to Ted with my eyes wide and my jaw hanging open while pointing at a drawing of a tiger. Grinning, he said, "Yep, that's an original Charles Knight".
At an exhibition of Ted's artwork, he met Rhoda Knight Kalt, Knight's granddaughter. She was in possession of her grandfather's artwork and was selling some of it. She was particularly interested in seeing it go to artists. Ted put me in touch with her and I went to visit, checkbook in hand.
Rhoda is a delightful and generous woman. There were a few smaller dinosaur canvases, but they were well out of my price range. There were, though, wonderful pieces he had done for a textbook on drawing animals. I desperately wanted something in color and there were two I really liked. Rhoda told me I could pay her over whatever timeline I was comfortable with. And, with only a small partial payment, she let me walk out her place with these two pieces:
"Studies of Red-Deer Heads":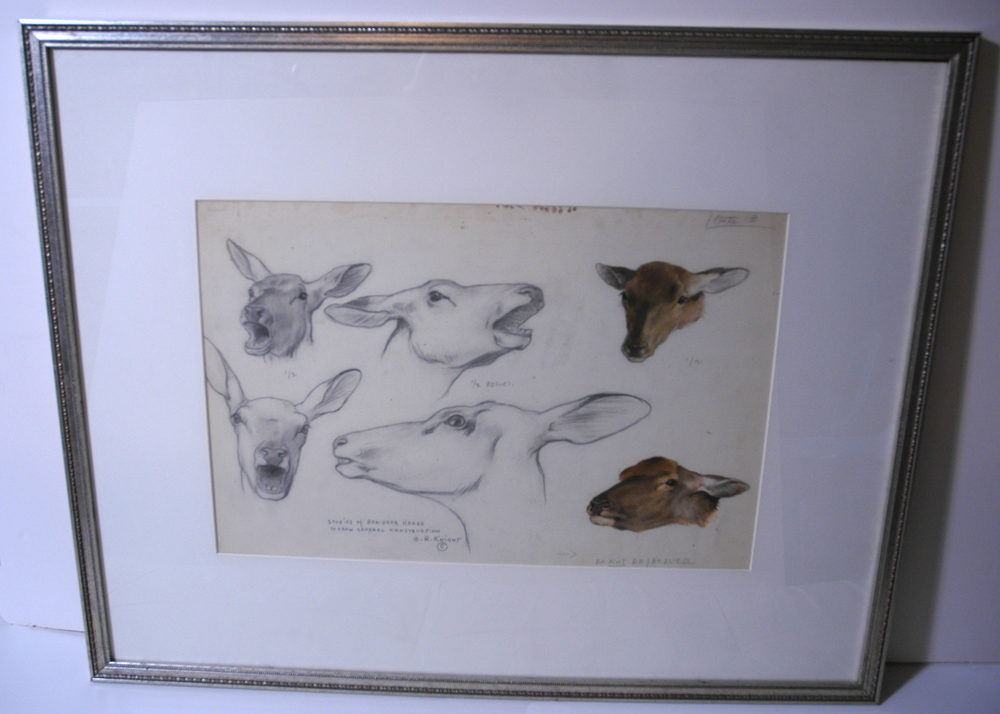 "Two Deer Heads":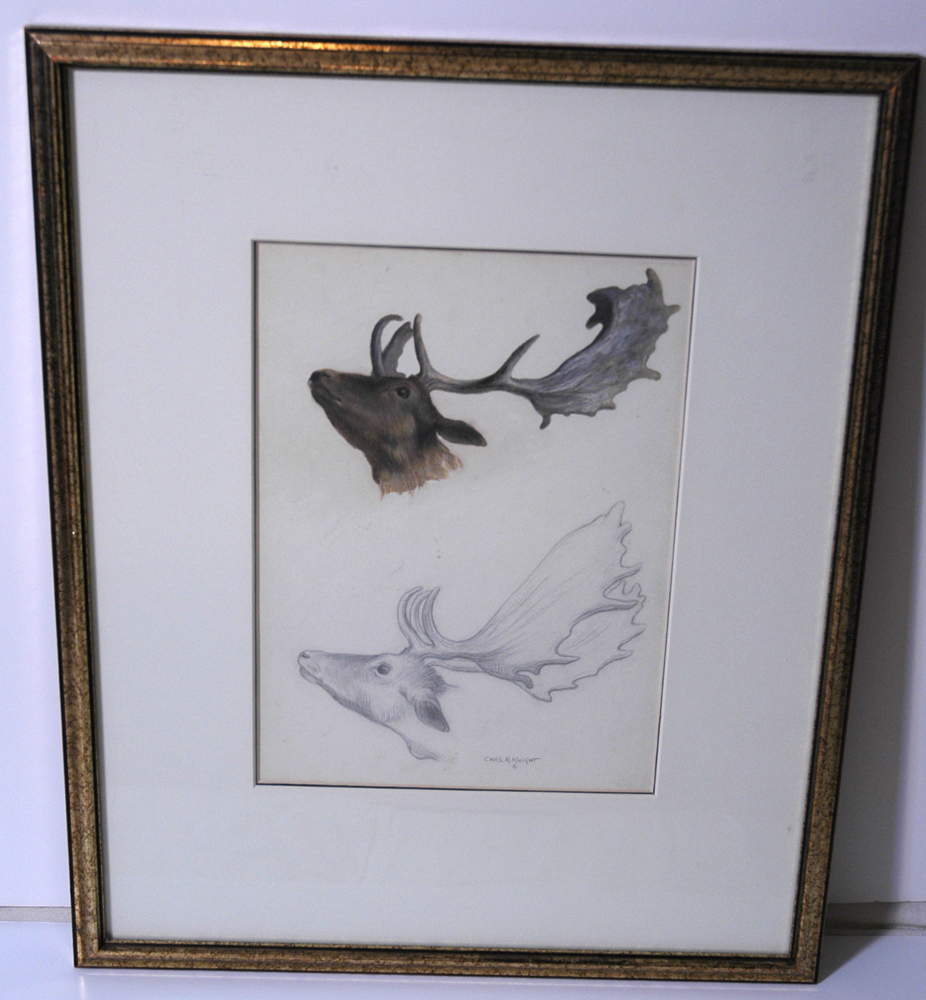 I now own artwork from my hero, Charles R. Knight.
Unreal.
This entry was posted by
davidwiesner
. Bookmark the
permalink
.