For most of my childhood, when I saw images that appealed to me I would want to draw them.
The kinds of stuff I copied changed as I got older and was exposed to more things – dinosaurs when I was seven and eight, landscapes at ten and eleven, Mad magazine and comic books nearly all the time.
It should be no surprise that at around age twelve rock and roll arrived in my life – big time.
Music was all around (We're talking sixties and seventies here). First AM radio, then FM. I had older siblings, so there were lots of albums and 45's in the house. Pop, rock, folk, jazz, blues – I loved them all.
Naturally, I wanted to draw this stuff. Album covers were, of course, a treasure trove of imagery. A bit intimidated by painterly work, I looked for images where line was emphasized – particularly if the images contained people.
Fortunately there was a popular style at this time that allowed me to draw people in a way I could be comfortable with – images based on high contrast photos. What was so special about the high contrast images? Hard edges. I didn't have to nuance the form and shading of a nose or eye – these portraits had no half tones, just black against white (Or color against color).
Here's an example. Included in The Beatles album (aka, The White Album), were four individual color photos of the lads. I had the album on cassette tape (I was deeply into tape decks. For a few years I actually bought music on commercially made cassettes, before admitting that the sound was, indeed, terrible. After that I made my own tapes from vinyl sources). The cover of the cassette box was not the plain white of the record, but an arrangement of those four portraits – except that instead of the color photos, they were high contrast black and white images:
At that time I couldn't recreate those color pix – but I could paint those black and white ones:
For some reason I added those grey areas to Paul (Don't know what that was all about, but the black on top of the grey is flaking badly).
The thing about these – and almost all of what follows in this post – is that they are quite large. I assume it was my goal to make my own posters. I would buy 22" X 28" sheets of poster board at the local paint and wallpaper store, the only source for art supplies in town.
So, even though my source material was usually small – often tiny, like the cassette case images – I worked big. Even when working from album covers, which are a sizable 12" X 12", I was still working up nearly 400%.
Most of these were done when I was thirteen, fourteen and fifteen. I used images from albums that belonged to my siblings as well as ones I began to purchase myself – which explains the wide range of music.
Nothing can explain Grand Funk Railroad except my youthful ignorance.
Here is my room during that period: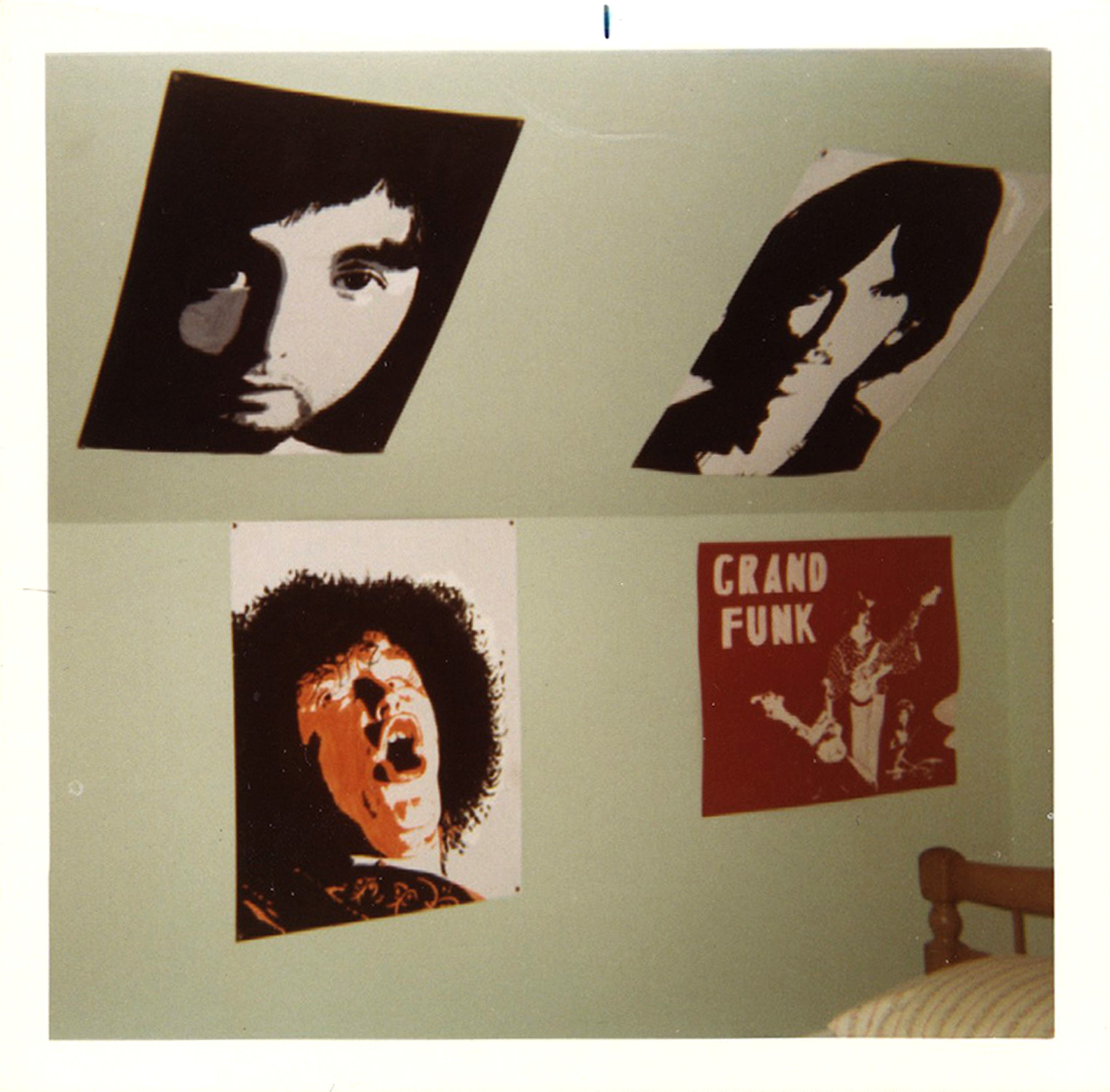 Albums will be on the left and my interpretations will be on the right:
Here are couple things done in line. First, The Fifth Dimension:
And Jethro Tull's second album, Stand Up:
And now the glory of high contrast. Grand Funk: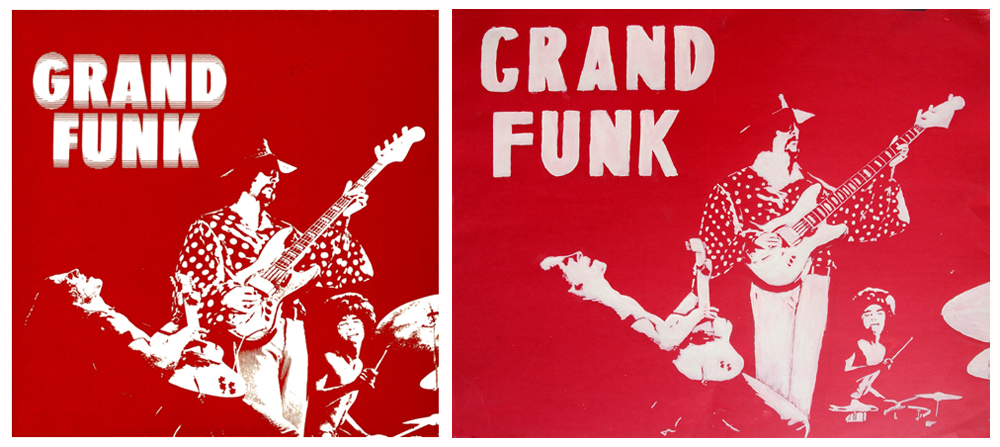 The second album from Iron Butterfly (And you cringed at Grand Funk):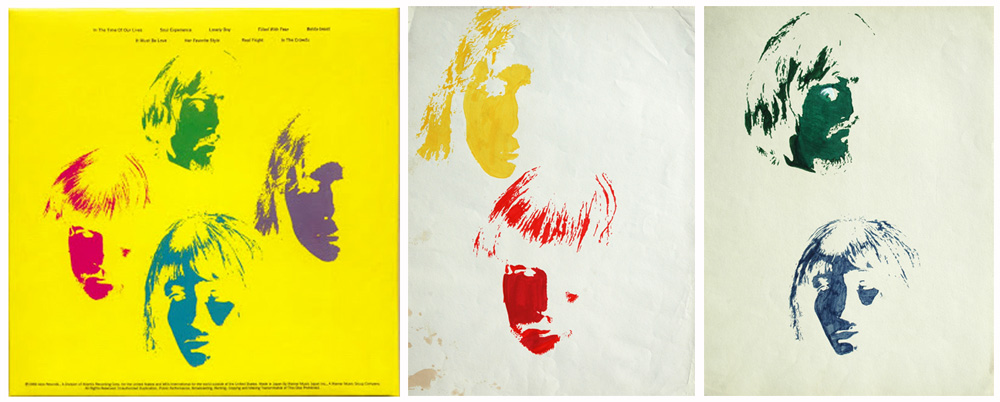 Joe Cocker's first album (Ah, quality):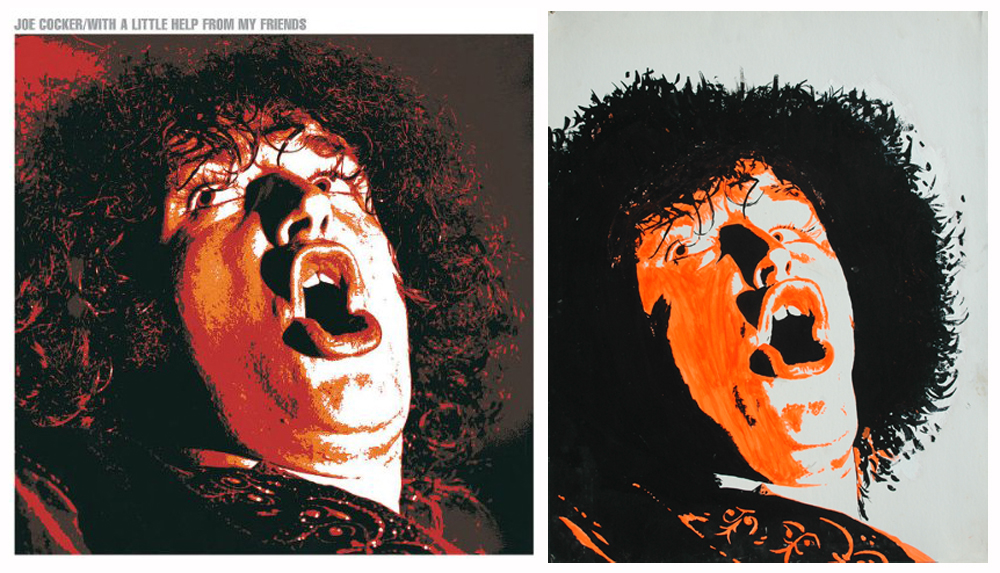 Joe Cocker's second album (I took a shot at the half tone):
Sly and the Family Stone (The photo on the left is tiny, the middle attempt is very large, the right is letter size):
The Band, Time Magazine 1970 (The new sound of "country rock". Country rock – nice try, Time):
The Brooklyn Bridge (Yeah, well, it was high contrast):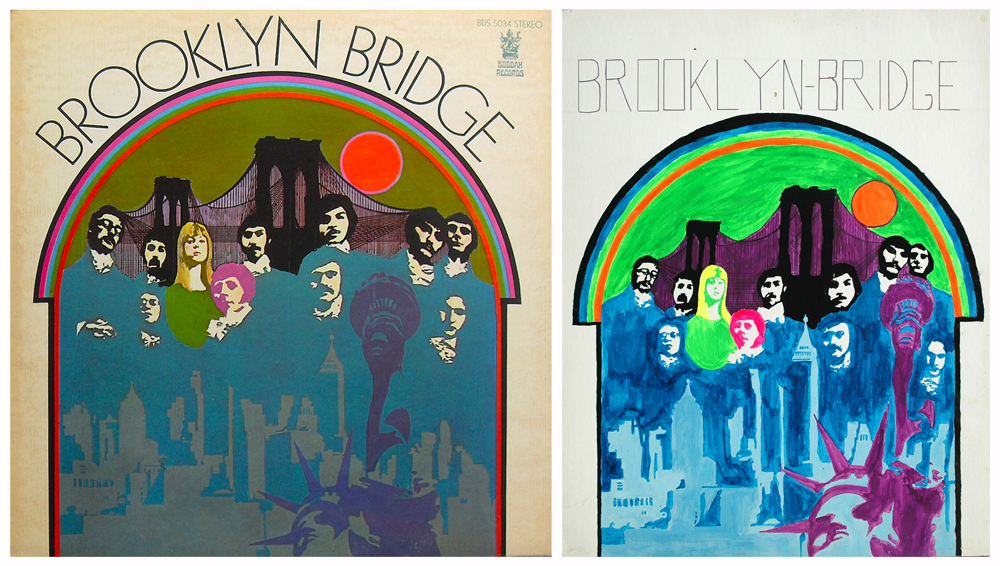 I bought a couple posters, printed black on silver backgrounds. I then made my own versions, black on white, the exact same size. Jim Morrison:
Jimi!: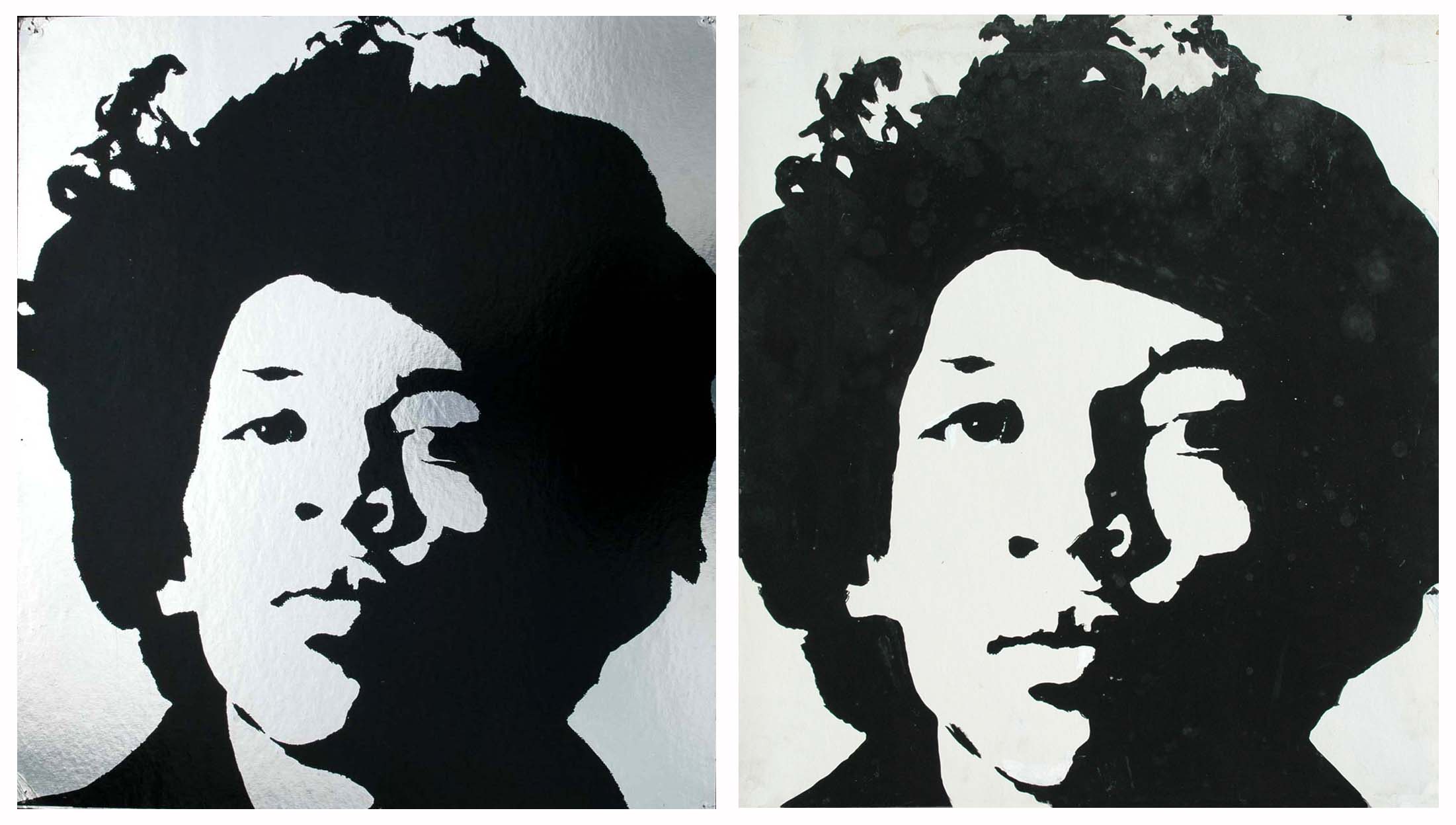 Jimi again – in pastel! (Band Of Gypsies):
When it came to The Who (With whom I bonded with deeply), I tried to cobble together something more original. I wish I had the photo I worked with to know if the color was my idea. I do know the source was a half tone image, not high contrast. Anyway, it was different:
As you can see, I did the lettering in the same lurid colors as the figure – and then changed my mind. Painting over with white didn't work for long and the paint began to flake off: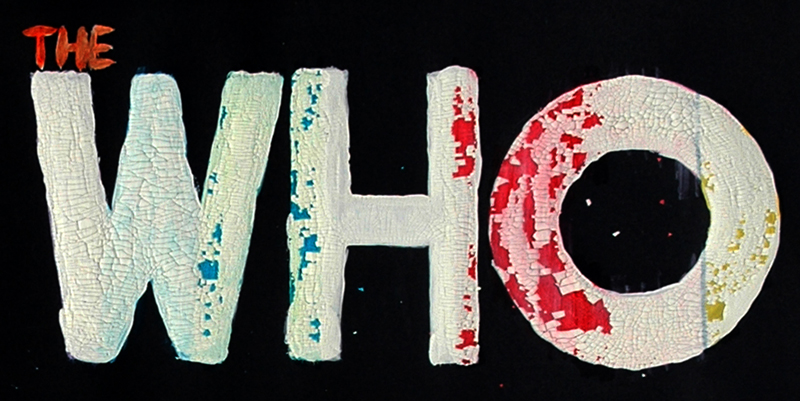 Pretty cool! It's craquelure!
I came across a cartoon that showed a big heap of rock bands piled up with Cream on top (It had Jack Davis-like quality to it, though not anywhere near as good as Jack). I took the Cream caricature, which was tiny, and drew it poster size:
Hey – painting! Branching out from the hard edge faces.
One last album rendering:
Apparently I must have liked this image a lot. So much so that I did it again, even larger:
I guess poster size just wasn't big enough for me. In the summer of 1971, my parents agreed to let me have my way with a room in our basement (we squeezed a pool table into it. The walls along the sides were about twenty-four inches from the sides of the table. You needed to be a contortionist to play).
The way the room was set up, there were five wall sections for me to work with. One was that Mountain image. On the opposite wall, I went with my old standby, the high contrast portrait, and created a composite of images: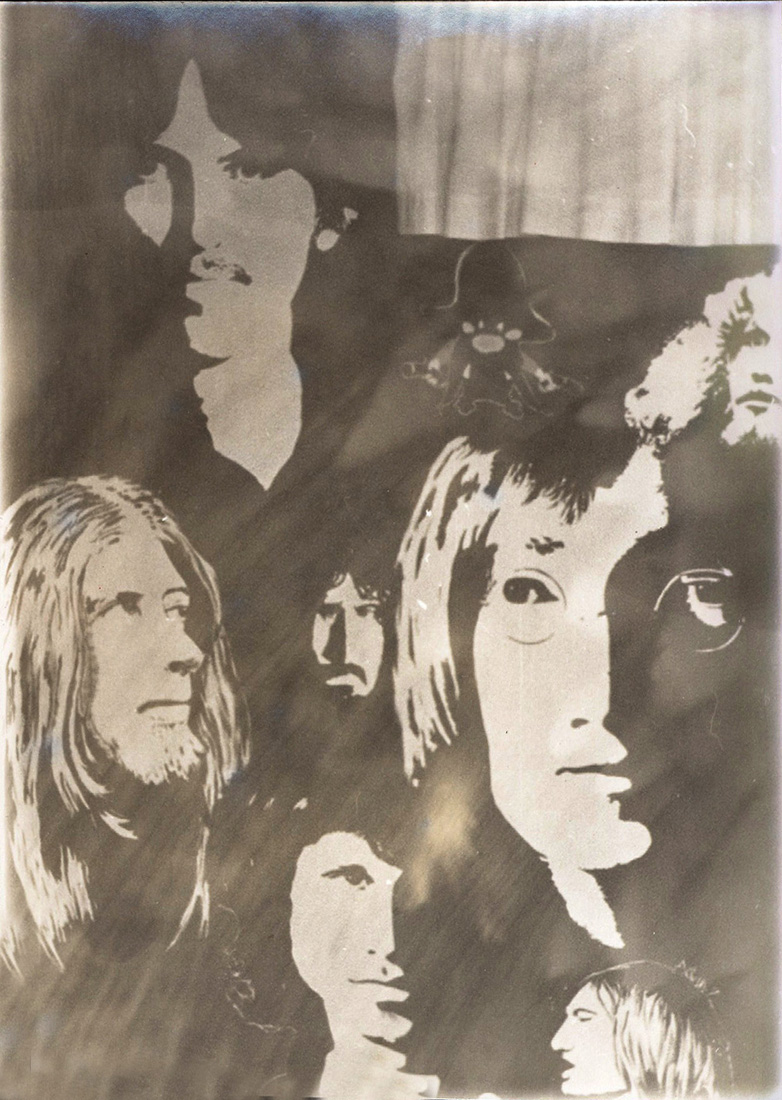 Lotta black paint on that wall. I took and developed that photo, which is why it looks so odd.
(Top row: George Harrison, Yosemite Sam, Ian Anderson. Middle row: John Mayall, Frank Zappa, John Lennon. Bottom row: Jim Morrison, Rod Stewart)
I can't do a post without a bit of process, so here are some of my concepts for the basement walls. I'm sorry I didn't do this one:
Here you can see little schematics of the walls, upper left and lower right (With pool table):
Here is the result – groovy, man!: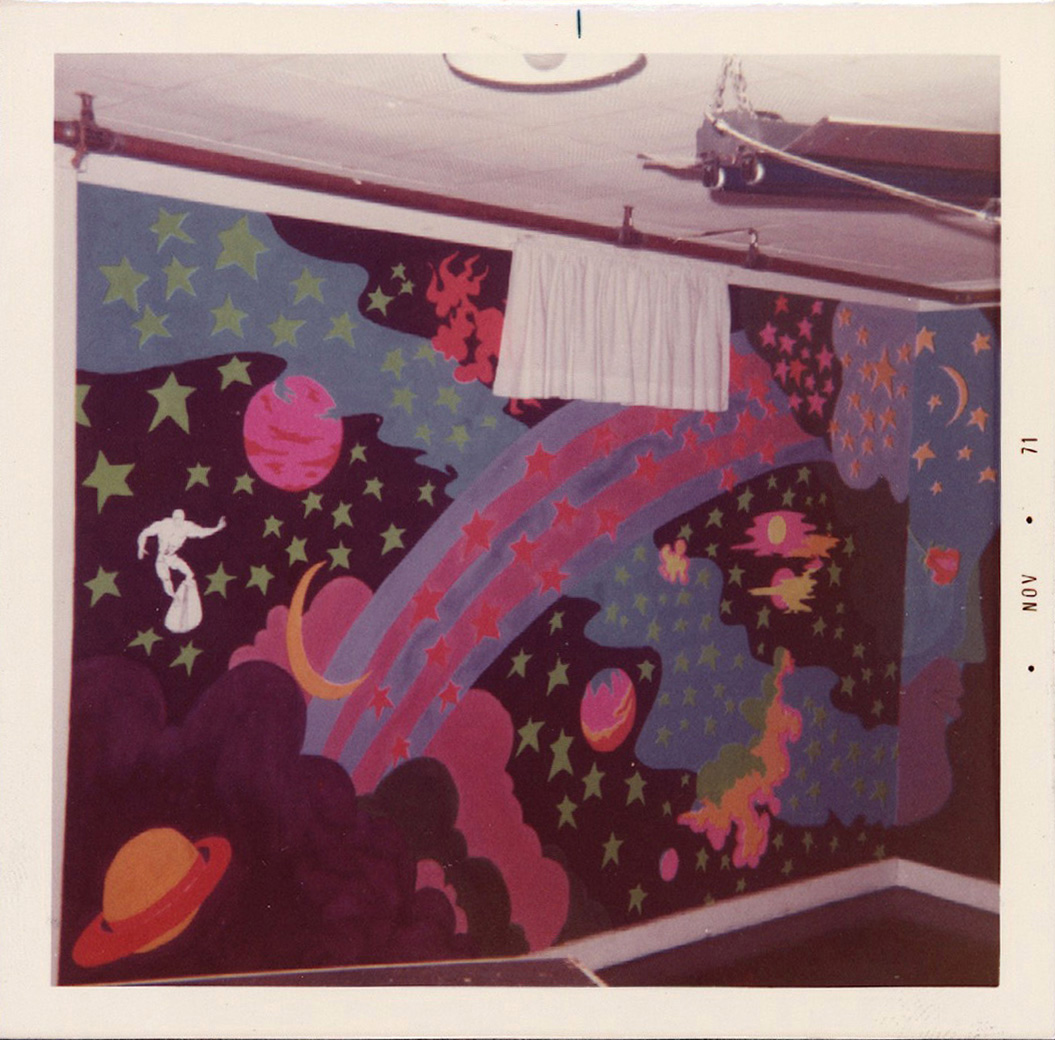 If you look at my drawing below, you can see the images are the ones in the photos above – the rainbow and stars in the back left, the bird-headed people on the back wall, the landscape on the back right, the dark space of the doorway, and the Mountain album image next to the door. Plus, a close up of the bird-headed people.
Teenage wasteland? Nah, teenage kicks!
This entry was posted by
davidwiesner
. Bookmark the
permalink
.